Virtuix, the producers of a virtual reality treadmill, has partnered with small footprint attractions specialist, Funovation to create the new esports attraction VR Arena.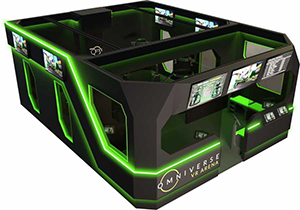 Powered by Virtuix's Omniverse content platform, the four-player attraction has been designed for the location-based entertainment market. Players can choose from 18 VR games with the chance to win in ongoing weekly and monthly prize contests.
"We've been organising esports tournaments since 2016 and we've learned that competitive gaming boosts revenues," explained Jan Goetgeluk, founder and CEO of Virtuix. "Ongoing prize contests result in repeat play by guests and build a community of frequent and loyal players. Our VR Arena attraction is exciting to both elite gamers and casual players. It's incredibly fun to run around inside your favourite game and everyone has a chance to win."
This unique ability for players to run inside VR games is made possible thanks to the brand-new Omni 2.0 motion platform. According to Virtuix, it has been radically improved and optimised specifically for out-of-home esports.
Suited to venues of all sizes, the attraction has a compact footprint of 35m.sq and is highly automated to reduce staffing needs. It offers a built-in staging area for quick player setup, a 4:1 player-to-attendant ratio and a queuing app to improve customer relationships and eliminate revenue-losing wait lines.
Other benefits include social mini-games and post-game social media stations to share gameplay footage, which feature the venue's logo.
"VR Arena combines the compact footprint of tethered VR attractions with the full immersion of free-roam VR while being a lot more affordable," said Ryan Borton, CEO of Funovation.