More details of the Super Nintendo World park being built by Universal Studios Japan, have been released.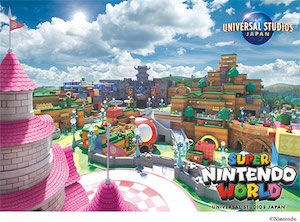 The world's first Nintendo-themed entertainment area featuring Nintendo's legendary worlds and characters will be a multi-level destination with many attractions, shops and a restaurant.
There will be a new Mario Kart attraction and a Yoshi ride, plus Peach's Castle and Bowser's Castle.
It is anticipated that the new venue will increase the attendance at Universal Studios Japan notably in the run-up to the 2020 Tokyo Olympic Games that are still planned to go ahead but in the spring of 2021.