UNIS is busily gearing up for the upcoming Amusement Expo, which will be held at the Las Vegas Convention Center, US, from March 20-22.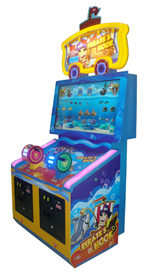 The company will be showing all its new products, including the very popular Pirate's Hook redemption machine. The fun fishing game was originally launched at the IAAPA show in November and has proved a great addition to a wide variety of locations. It and other latest units will be found on booth 801 at the show.
During the same week, the company's Moscow-based distributor, ODA, will also be exhibiting Pirate's Hook at RAAPA 2013 at the All-Russian Exhibtion Center, on booth D1.