PortAventura World, located in the Spanish port city, Tarragona, has unveiled its long-awaited new ride which officially licenses IP from the Uncharted franchise.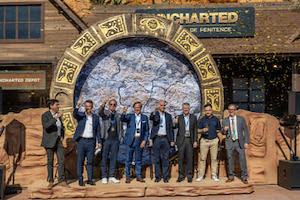 Uncharted: The Enigma of Penitence is an indoor roller coaster developed as a collaboration between Sony Pictures Entertainment, Intamin Amusement Rides and Sally Dark Rides.
The ride is a first in a number of ways, being the only roller coaster in the world to license the Uncharted IP and the first ride in Europe to feature a lateral drop.
Jeffrey Godsick, executive vice president of brand strategy and partnership, also head of location-based entertainment of Sony Pictures Entertainment, said: "The opening of Uncharted, the ride, is a testament to PortAventura's expertise in attraction development. A display of safety and care with the IP was evident from fabrication through completion.
"PortAventura World is known for adventure and our global teams, including PlayStation, have worked collectively to ensure all guests can look forward to becoming Uncharted explorers."
PortAventura World describes the ride as such: "Built on a base measuring 4,800sq.m and standing 16m high, this dark ride roller coaster, designed as a family concept, takes visitors on a 673m journey completely in the dark where they will be amazed by a multitude of audiovisual effects and immersive experiences, all based on Uncharted."