A recent report has revealed that many UK teenagers are choosing fun, social activities over traditional, competitive sport.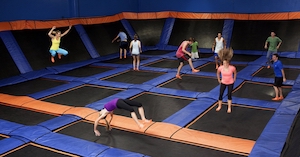 The study was led by Michaela James, a research assistant in childhood physical activity and Sinead Brophy, a professor in public health data science at Swansea University. It was published by The Conversation, a media outlet that uses content from academics and researchers.
The aim of the report was to investigate how to better get teenagers more active. School-based schemes have had mixed success to date so the experiment involved teens directly, which vastly improved the success of these types of initiatives.
One of the key findings was that, given the choice, many teenagers prefer something fun, unstructured and social over traditional sports. When allowed to decide what they wanted to do, all of the participants were in favour of unstructured and informal pastimes. Trampolining accounted for almost half of the chosen activities (49 per cent), followed by laser tag (11 per cent) and waterpark visits (seven per cent) with boys and girls opting to do similar activities.
The study, named the Active Project, worked with 900 teenagers in South Wales. Using a voucher system to pay for activites, empowering them to make their own choices, the participants also had peer mentoring to give them social support to be active, and a support worker was made available to help the teenagers find out what was available already.