YuMe World, a family entertainment centre in Newcastle, UK, has invested in more games which offer immersive gameplay.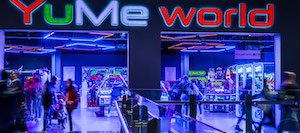 Titles include the latest versions of favourites such as the Jurassic Park, Mario Kart and Monopoly games.
YuMe World managing director John Sullivan told bdaily.co.uk: "Because we wanted to offer the latest and most popular games the market has to offer, we continually reinvest in new games to keep the experience fresh for customers.
"We have also recently introduced our card system to allow a frictionless, cashless experience, allowing a membership incentive to play. The cards can be used by multiple people, for example a family and people can return to spend remaining credits on the cards."
The venue is also planning to launch a dessert parlour later this year.