The UK has updated its £20 note, now featuring the artist JMW Turner, to the more secure polymer format that the country's £5 and £10 have already been converted to.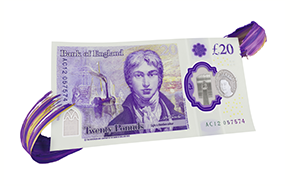 Speaking at Tate Britain, which houses the Turner Bequest, Bank of England governor Mark Carney said: "Our banknotes celebrate the UK's extraordinarily rich and diverse heritage and highlight the contributions of its greatest citizens. Turner's art was transformative. I am delighted that the work of arguably the single most influential British artist of all time will now appear on another two billion works of art."
The new £20 note is the first to feature the signature of Sarah John, the bank's current chief cashier.
"Moving the £20 note to polymer marks a major step forward in our fight against counterfeiting. I am very grateful to everyone across the cash industry who has made this transition possible and I hope the public enjoy using their new Turner £20s," she said.
Paper £20 notes can continue to be used as normal and the bank will give six months' notice ahead of their legal tender status being withdrawn.