Saudi entertainments venture firm Seven has awarded a contract to Triotech to develop a number of Transformers themed attractions at its destinations.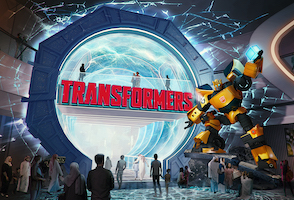 The company's latest interactive dark ride will be installed at the site in the Al Hamra district of Riyadh, while two further attractions will open elsewhere in the country.
Seven is investing SAR50bn (US$13.3bn) to create 21 integrated entertainment destinations featuring over 150 attractions in 14 cities.
The company recently signed a deal to bring the Transformers brand to the country, with the agreement including state-of-the-art rides, branded retail and F&B venues.
Damien Latham, chief attractions officer at Seven, said: "We are excited to be working with Triotech to bring the Transformers attractions to our entertainment destinations, providing our guests with a one-of-a-kind attraction.
"Seven will continue to raise the standards of entertainment, creating innovative experiences for our guests by developing exceptional entertainment experiences in the Kingdom."
President and CEO of Triotech, Ernest Yale, said: "We have an extensive track record in adapting global iconic IPs to interactive attractions which positions us as a partner of choice for Seven's Transformers projects in Saudi Arabia.
"Triotech will leverage its global leadership in immersive experiences and its ability to deliver turnkey attractions to make this an experience that will bring the guests into the Transformers world."