Superfly, by Triotech, can be found at NEB's Fun World, an indoor FEC in North Oshawa, Canada.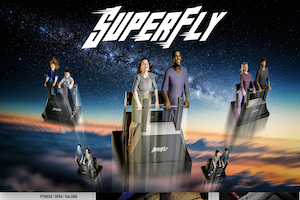 Superfly is a part immersive simulator and part flying theatre with guests situated on motion platforms enhanced by special effects.
By standing, guests' immersion is greatly increased due to the enhanced motion and special effects such as wind, water, scents and leg ticklers. The attraction will have 23 platforms holding two people, with a capacity of 46 people.
Tom England, president of NEB's Fun World, said: "Triotech's innovative SuperFly was selected to diversify our offering and attract new visitors. We're eager to offer one more Triotech experience to our clients. Having the possibility to change the story for Halloween, the Holidays, and other special occasions is a great advantage for having visitors coming back all year long."
Ernest Yale, Triotech's Founder and CEO, said: "We take customer success to heart so it's always a pleasure when clients want to add new Triotech attractions to their location. SuperFly is a one-of-its-kind experience. It will be the first in North America and the world's largest. No doubt that NEB's Fun World will make it a hit!"