Cinema piracy of a different kind hit Montreal, Canada, recently as Triotech installed its latest immersive attraction in the city.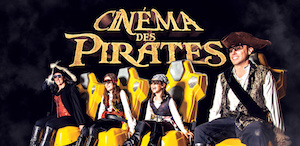 The Voiles en Voiles adventure park in the Old Port of Montreal is the latest location to benefit from Triotech's XD theatre. Le Cinéma des Pirates, a 3D immersive attraction, further leverages the technological innovations developed over the years by the Quebec company.
"Triotech is proud to expand the family activities available at Voiles en Voiles and to install its very first immersive theatre at the Old Port in Montreal," said Sylvain Larose, Triotech's director of operations. "The 16-seat theatre provides a 3D immersive and multisensory experience combined with special effects. No matter the weather, young and old alike will be able to enjoy an attraction that transcends time, space and imagination."
Triotech has deployed more than 350 attractions in more than 60 countries, most recently installing rides at the Méga Parc des Galeries de la Capitale in Quebec as well as at the Granby Zoo, but this marks the first time that it has sited its XD theatre in Montreal.