Transformers Shadows Rising, the new dedicated video game from Sega, was a key element in the coin-op display at the International Bowl Expo in Las Vegas, June 17-21.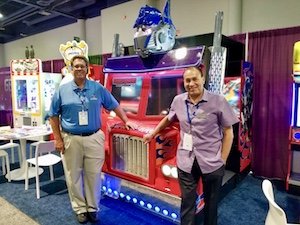 The new game, with its red and blue truck-themed cabinet and shiny chrome exhausts and Optimus Prime marquee, was a big hit with the visitors.
Regional sales manager Marty Smith commented: "Many customers highlighted the gameplay was easy to join and had a simple to use controller, crisp graphics and great audio, all delivering an action-packed 'metal on metal' battle experience. All this in an attractive cabinet convinced them to place orders for the game."
The game is a follow-up to Transformers Human Alliance but has many new features. It was joined on the Sega booth by the new Daytona Championship USA in a new cabinet and smaller footprint that won an award at the IAAPA show last November.
Pictured: The Sega booth at the IBE with Marty Smith (left) and Vince Moreno, both regional sales managers.