US manufacturer TouchMagix is to use this month's IAAPA show from November 13-16 to showcase three new games alongside its Magixlanes system.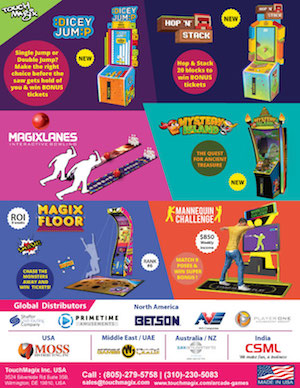 Billed as the world's first game to use a rotating display, redemption game Mystery Island uses mixed reality as players help a lost pirate get to the top of the island and find a golden skull, collecting points along the way.
Hop 'N' Stack and Dicey Jump are both videmption titles that employ popular app-style gameplay. Featuring HD screens and compact footprints, both cabinets have bright, colourful designs.
MagixLanes is unique system that adds an extra dimension to bowling installations. Covering two lanes with three top four projectors with a huge library of HD quality themes and effects, it can also be customised with bespoke messages