Arcade games manufacturer TouchMagix is showing off a couple of its new games at the IAAPA Expo this week.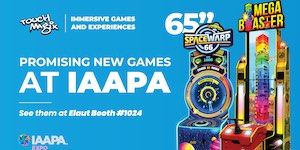 Mega Blaster, the company's newest title, and the all-new 65in SpaceWarp 66 are on display at the Elaut booth at the show in Orlando, Florida, US.
Jayesh Kariya, CEO at TouchMagix, said: "We've been excited to bring Mega Blaster to IAAPA, given the promising six-week test results compared to some of the best earning titles in the industry. It's great to see similar enthusiasm on the biggest show floor."
TouchMagix's games can be found at booth #1,024 at the IAAPA Expo this week.