Tony Marsh, for many years in the 1970s through to the 1990s a leading figure in the UK AWP business, has died, aged 78. Tony passed in London on Monday morning this week.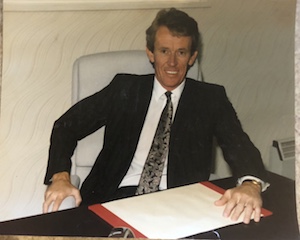 Tony Marsh started in the industry in the 1960s with an operating company named MH Automatics in partnership with David Holt. He later went on to build a substantial single site operating company under the Playtime Ltd name in the West Midlands of England during the 1970s. At that time he operated pool and football tables, largely in the Stourbridge area. Then he opened an operating business installing machines in clubs in the area that was to become very successful.
On a trade visit to the Japanese show, Tony entered talks with Nichibutsu, the major video games manufacturing company and returned with an import licence. He set up offices and showrooms in the West Midlands and stocked the small cocktail table video games, intended principally for use in his own club operation, but for general sale too. At that time he was one of the first people in the country to develop a system under which games could be changed without removing and transferring an entire machine.
They had the machines adapted for the UK market at the factory of Ace Coin Equipment in Wales and in 1985 had the opportunity to buy the company. They rented a huge works canteen at part of the Royal Mint in Llantrisant, South Wales, to become the manufacturing base.
They later moved the business out of Wales, opening a factory in Telford, West Midlands and it continued to thrive, at one time turning out as many as 1,000 machines a week, many of them destined for the export market, notably to Norway and the Netherlands. Eventually, in 1991, they sold Ace to Allied Breweries, after which Tony's involvement in the industry waned and he spent much of his time out of the country, in Belgium, Barbados and Switzerland.
At the time of writing, there is no word on funeral arrangements. He leaves three daughters, Alexandra, Sophie and Kate.
Many people remember Tony Marsh with considerable affection and respect.
Jimmy Thomas, who was a regular visitor to see Tony, said: "He was a great asset to the industry at a time when the industry was changing very rapidly and very significantly. He was also a great character. We will miss him."
Roy Ruffler, who was a friend spanning many years and also visited recently, said: "The only thing I would add is that although he may have left the industry, his heart was still there, always thinking about new ideas."
David Snook of InterGame said: "He was always a very pleasant and colourful character, but behind that affable appearance there was a sharp business brain."
Will Gregory, who worked with Tony in several enterprises, said: "I worked for Tony at Ace for about 10 years. I remember him with great affection. He was a fantastic boss to work for, full of energy and a great character.' He was always very highly regarded in the industry."