Australian FEC company Timezone has opened its biggest location yet in Vasant Kunj, New Delhi.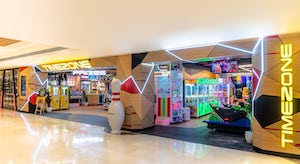 Located at the Ambience Mall, Timezone's latest venue is a huge 23,000sq.ft space, full of the multifunctional FEC attractions the company is known for.
Timezone Vasant Kunj features over 100 of the latest games, state-of-the-art bowling, VR experiences from Hologate and rides, for example the Krazee Whirl cars.
Abbas Jabalpurwala, CEO of Timezone India, said: "Timezone's new venue at Ambience Mall is an experience maker. With world-class games and rides, Timezone is sure to win over audiences young and old alike.
"This unique indoor entertainment concept provides an immersive and engaging environment which allows audiences of all ages to have a blast while spending quality time with each other. We are excited to welcome families and friends to avail exciting introductory offers and prizes to kick-start their fun!"
Arjun Singh Gehlot, director of Ambience Group, added: "We are thrilled to house the world's best family entertainment centre in our mall. Our aim is to provide the best experience to our audience with the perfect blend of shopping and entertainment.
"We are certain that Timezone will bring endless fun and bonding opportunities to mall visitors; young and old, while promising them an experience that they won't forget!"
The venue is open now, with introductory offers available on the Timezone app to celebrate its grand opening.