Major Singapore-based FEC operator, Timezone, has launched a new mobile app to improve digital guest experience.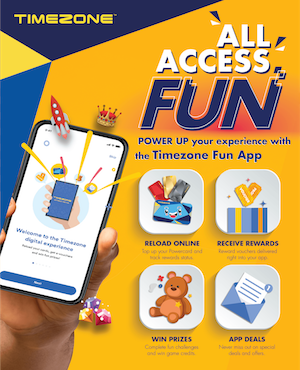 The Timezone Fun App has been launched in the company's home country to offer a simple, convenient and reliable platform for guests to engage with their Timezone Rewards, their Powercards and promotions all in one place.
CEO Sonaal Chopra said: "We can now deliver power into the hands of our guests and believe that the new mobile app will wow our customers and hyper-boost their Timezone experience."
The app will enable players to skip the lines to boost credits, track cards, game credit and reward vouchers and take advantage of promotions.
"It is in the DNA of Timezone to create fun and it is also built into the app. There will be mini-games and challenges for guests to take up and goodies to be won. Imagine getting more e-tickets for those headsets you have been eyeing in the prize shop by playing a challenge even before you get to the venue. Set your notifications every time there is a new challenge and don't miss out."
The Fun App will be launched in all seven countries where Timezone operators. The company is part of the Entertainment and Education Group.