The latest positive charitable landmark for the UK's Tickets2Wishes initiative, which sees unused redemption machine tickets donated for charity, was at Swansea, UK.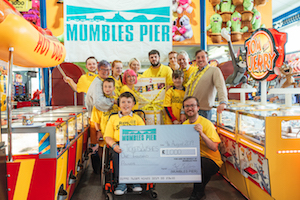 A VIP event at Mumbles Pier saw two local families benefit from the scheme, organised and run by trade association BACTA. The money resulting from the left-over tickets is used to grant wishes for children fighting serious and life-limiting illnesses.
Seven-year-old Lydia and 10-year-old Daniel were at the pier with their families and local Swansea Member of Parliament and charity supporter Carolyn Harris, to enjoy a day out at the pier. At the same time a cheque for £1,000 was handed over to the Rays of Sunshine charity – which is supported by the Tickets2Wishes initiative.
In addition to their days out at the pier, Lydia and Daniel had their wishes granted that saw them meet Little Mix, the famous all-girl group, and visit Lapland UK.