The popular Thai tourist resort of Pattaya will see a new theme park and water park opening next month operated by Sony Pictures.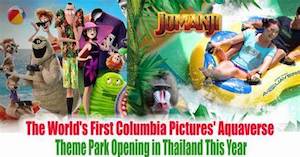 The Columbia Pictures Aquaverse will open its doors for the first time on October 12, offering both dry and water-based attractions over 56,000sq.m of space.
The opening has been delayed for a year through the pandemic.
Local company Amazon Falls will manage the new venue that will be increased in size to 160,000sq.m over time with other attractions added.