The strength of the cinema industry in the Middle East and North Africa has been estimated at US$500m in revenue, according to statistics compiled by financial services group PriceWaterhouseCoopers.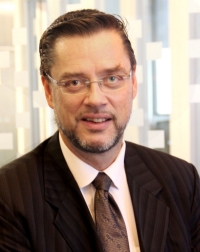 Although this is only 1.25 per cent of global box office revenue ($39.92bn), it is up three per cent on 2016 and with the opening up of the cinemas industry in Saudi Arabia, likely to rise rapidly.
Martin Berlin (pictured), global deals real estate leader at PwC, said: "There is a strong growth pipeline of new cinemas in the region, driven by the opening of the KSA market. The main opportunities will come from there, followed by more sophisticated pricing mechanisms where cinema operators offer price differentiation based on timings and particular days. And premium screening is another way of optimising revenues."
PwC's research will be released on the opening day of the MENA Cinema Forum, a conference set for October 28 and 29 at the Grand Hyatt Dubai where exhibition space has been sold out. The research will provide a detailed update on the current cinema situation in the region and the potential for growth.
The conference will have 45 speakers and attendees are likely to number around 500 from 30 countries. The show and conference is organised by GM Events.