The Themed Entertainment Association (TEA) has announced its Masters honourees for 2021.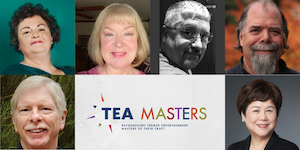 This year's TEA Masters - Nathalie Bournillat, Catherynne Jean, Dale Mason, Rick Rothschild, Frank Weigand and Jill Wu - will be officially honoured and showcased in a free online event on November 3.
TEA is a global, non-profit membership association for the creators of compelling places and experiences.
Initiated several years ago, the TEA Masters programme helps boost awareness of the many creative specialties and disciplines that collaborate to produce guest experiences and themed entertainment.
Chuck Fawcett, international board president at TEA, said: "Through their vast experience and contributions to the industry, these six individuals have truly become masters at their craft.
"They are highly respected, dedicated and passionate about their work and foster a culture of collaboration that inspires so many others to follow in their footsteps."