Digital-savvy teenagers are an important amusement market, writes William Bell.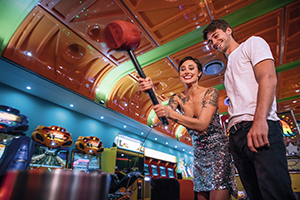 Teenagers find themselves in a grey area when it comes to activities or social events outside of school hours. Most venues are engineered to cater to adults and families, so if friends want to spend time after hours, there aren't many specialised options that cater directly to a teen demographic. In this sense, arcades are a great option for teenagers looking for a thrill. Arcade gaming is an activity accessible to all ages, games can be played alone or in a group, and they are much cheaper investment than a full gaming console or new game.
In a social aspect, gaming has become prominent as a group activity over the years. This can be made clear by most arcade games already being equipped with multiplayer features and options, including developments onto existing single-player arcade games, such as crane games.
Read the full article in the September issue of InterGame
To receive every print and digital issue of InterGame, subscribe here