Players' in-home VR gameplay can now be linked with location-based games in FECs and arcades.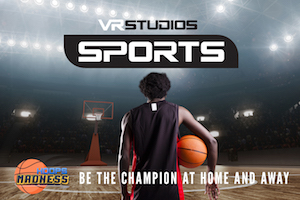 VRStudios Sports has come up with a new platform with which players can download their progress on a game at home and then transfer it to a VR game in their local FEC.
VR Studios Sports has a range of competitive sports games and an AMP Player Portal for tracking scores, leader boards and persistent profiles for play at home and in a location-based entertainment venue.
The first title, Hoops Madness is a VR basketball experience with a leader board ranking facility at home and at the outside venue. Players practice on their own or can connect with up to eight players in a virtual arena. Hoops Madness is now available at home in Early Access on Steam and on all VRStudio's Atom and Flex systems at their local LBE.
The VR Studios Attraction Management Platform (AMP), that has been operating now for over four years delivering millions of VR experiences, is the means by which players can create persistent profiles that follow them from home to the FEC.
VRStudios has developed its VRStudios Sports to give operators fresh options for building awareness with new audiences, maintaining a connection with payers at home, promoting events and driving in-store revenues.
Soon VRStudios will bring out another new attraction, the Fury Sports Booth, an unattended VR device that will invite players to enter the VRStudios Sports game-play.