A Sunkid Coaster Train 1200, known as the SpeedSnake, is set to open at Fort Fun, an amusement park in Germany.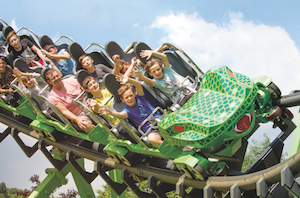 The coaster will run on a 35-year-old rail route, previously used by a Vekoma Whirlwind. The most notable feature in this coaster is its switch from shoulder to belly brackets, which gives passengers a greater feeling of freedom. It also allows for faster visual safety inspections without disassembly or loss of passenger comfort.
The belly brackets are latched individually and mechanically. After every ride, all seats are unlatched through an actively supplied air pressure of at least six bar.
That Sunkid has been able to provide a completely new experience on a 35-year-old track has been of particular importance, said Fort Fun CEO Andreas Sievering.
"For me as the operator, it is, of course, of great interest that the old track can be used virtually unchanged," he said. "The passengers have a new attraction in terms of riding feel, though. Sunkid truly mastered this task outstandingly with its new train."