Austrian attractions provider, Sunkid, and Brandauer, manufacturer of summer tobogganing systems, have agreed to continue the Mountain Coasters summer toboggan run business as a part of Sunkidworld.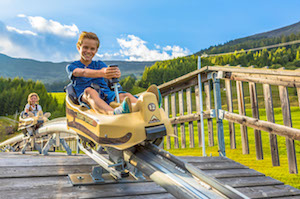 Brandauer, founded by Josef Brandauer in 1980, opened its first run in Abtenau, Austria, in 1996. More than 50 facilities have since been installed in many countries around the world.
The trademark of the Brandauer summer toboggan run Mountain Coaster is its unique monorail system that not only offers unique ride dynamics but is also particularly cost-efficient and easy to remove.
The low weight of the toboggans also permits simple mountain transport, even using the existing infrastructure of T-bar, chair and cabin lifts. This not only clearly saves on construction costs, but also permits year-round use of facilities already built.
"This solution truly was a win-win situation for everyone involved," Sunkid's managing directors Herbert Zopf and Emanuel Wohlfarter said. "The summer toboggan run fits us outstandingly well and enables us to further improve our position as a provider of year-round leisure experiences for the entire family."