As the games industry globally begins to reopen, Stern Pinball has released a new line of pinball machines based on Nickelodeon's iconic animated hit television series Teenage Mutant Ninja Turtles (TMNT).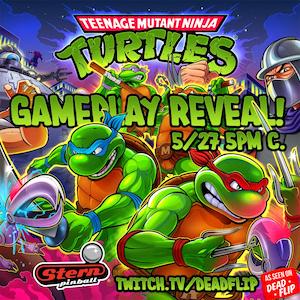 Available in Pro, Premium, and Limited Edition models, the game features Leonardo, Donatello, Raphael and Michelangelo as the Teenage Mutant Ninja Turtles, trained in the art of ninjutsu by their wise rat sensei, Master Splinter.
"There has been too many TMNT video games and other products to count," said the company. "You can even ride TMNT roller coasters at the Mall of America and American Dream Meadowlands."
Company president Gary Stern said: "Because so many people grew up with the Turtles, everything TMNT is collectible. Having been loved by people of all ages, TMNT is a great for the family and it will be great for the out-of-home players too.
"I could talk about the features and devices on Turtles – its smooth shooting ramps, three flippers, use of RGB LEDs, colour-changing general illumination LEDs, spinning target, coil actuated posts, many multi-balls and much more. I could talk about its depth and breadth for all player levels – its eight episode modes, two multi-balls, two hurry ups, one mini-mode, three training modes, and three wizard multi-ball modes.
"But I have to ask – what would a TMNT pinball be without a pizza? Our game has a spinning disc pizza with a centre magnet, capable of catching three balls and slinging them over the playfield for wild pinball action."
Stern confirmed that the state governor will permit manufacturing to restart today and the factory was preparing to put TMNT on the line and shipping in the second week of June. As usual there will be three models, Pro, LE and Premium.