Stern Pinball, the producer of arcade pinball machines, and Epic Rights, rock band Aerosmith's global licensing agent, have unveiled a line of pinball machines that honour the band.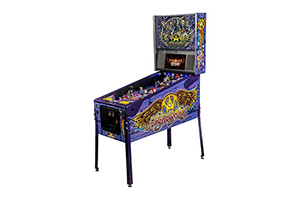 Gary Stern, chairman and CEO of Stern Pinball, said: "We're thrilled to have Aerosmith join the ranks of Stern Pinball's rock and roll line-up. Aerosmith is an iconic band with a devoted fan base. Fans of both the band and pinball will be able to appreciate the extraordinary experience that the Aerosmith pinball machines provide."
Lisa Streff, executive vice president, global licensing, of Epic Rights, said: "The Aerosmith pinball machines are an ideal way to expand the band's global brand because they provide a unique and fun experience for fans and consumers of all ages."
The Aerosmith machines feature original hand-drawn art provided by Donny Gillies, who has produced work for bands including The Hellacopters, The Melvins, Queens of the Stone Age, The Wildhearts, Electric Frankenstein and The 5.6.7.8's, but is most noted for his work with metal band Metallica.
The machines feature full-colour, high-definition displays. The game includes a high-fidelity three-channel audio system that is three times more powerful than audio systems of previous generations.
Players score points and finish game objectives to raise the "audience's levels of energy." Higher scores amplify the experience - the higher the energy level, the bigger and louder the show.