Spree Interactive has formed a strategic partnership with Pico Interactive, the global tech company that develops innovative VR and enterprise solutions.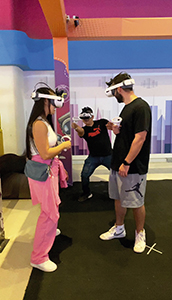 The two companies are seeking to work more closely to deliver customer B2B solutions for the out-of-home entertainment market.
Spree said in a statement: "The year 2020 proved to be challenging for the location-based entertainment industry. With many locations adhering to lockdown restrictions, the economic impact has been huge for both locations and suppliers. Many suppliers pivoted their offerings while others spent time focusing on product development. Spree Interactive chose to do both and, as a result, racked up a series of confirmed 2021 installations across North America, Central and Eastern Europe and the Middle East."
The new installations will use the latest versions of Pico's untethered Neo2 VR headsets and supporting operating software. Spree Interactive previously used Pico's G2 headset and is now upgrading due to better user experience with improved graphic resolution and sanitary materials.