Germany's Spree Interactive, the VR attractions developer, has unveiled a new product based on the famous Dynablaster console game.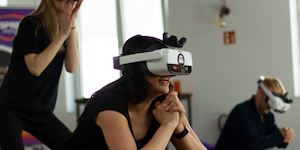 The title, released by BBG Entertainment and which involves strategic thinking and energetic movements for players, is now added to the Spree Games Pack.
The Spree version contains a controller-less twist to the game's core features of planning bombs near opponents to create high scores.
The player has to squat to plant a bomb - the longer the squat the larger the bomb - and if the player then jumps high they may kick the device to a more advantageous position for extra points.
Spaces from as small as six by six metres can be transformed with Dynablaster and the Spree Arena. Only one attendant is required for ten players.
Spree plans to take the game to the IAAPA trade show in Orlando, US, next month.