Spree Interactive, manufacturer of VR attractions for the location-based entertainment market, has partnered with ASI to unveil the VR Playground and kid-friendly shooter, Splish Splash, at the DEAL Expo show.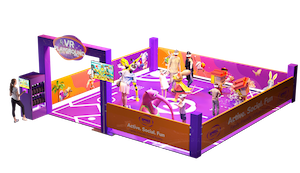 The company say the latest version of its award-winning multiplayer free-roam VR Arenas and tropical island shooter game captured the attention of attendees, receiving a great reception at the show.
The VR Playground is designed to maximise revenue while fitting in a compact space. It is aimed at FECs looking to tap into the lucrative six-12 demographic. Packed with a library of family-friendly games, the VR Playground utilises high-quality HTC Vive Focus 3 headsets, being designed for repeat play and maximum fun.
Available in 10-player, six-player, and now four-player configurations, the VR Playground is more compatible than ever, with options for footprints as small as 30sqm.
"We are excited to see such an amazing reception for the launch of the VR Playground and Splish Splash at the DEAL Expo show," said Jonathan Nowak Delgado, CEO of Spree Interactive. "Our team has worked tirelessly to design a product that meets the demands of FEC owners and delivers an unparalleled experience for players. The VR Playground is an exciting addition to any venue and we are confident that it will be young and old."