The pop culture character, Elvira, Mistress of the Dark, was already five years in existence when Stern Pinball opened.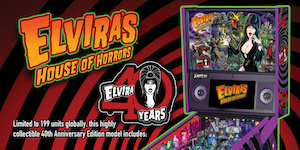 The 40th anniversary of Elvira is celebrated by the pinball maker, with an Elvira House of Horrors game.
There will be a very limited 199 games built by the company and matched with an exclusive Elvira autographed trade card mounted to each game.
Elvira will also autograph a copy of her Yours Cruelly, Elvira; Memoirs of the Mistress of the Dark, that will be included with each game.
Gary Stern, as chairman and CEO of the company, will join Elvira by signing a certificate of authenticity for each of the 40th Anniversary Edition games.
Each game will come with the new Insider Connected system so that players can interact with the game and the new network.
The new game will be shown at the Pinball Expo in Chicago, Illinois, US, from October 27-30.