UK jukebox manufacturer Sound Leisure recently supplied its first Vinyl Rocket Jukebox to India for the Royal Enfield Garage Cafe in Goa.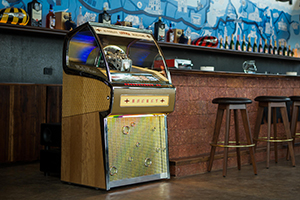 The site has a motorcycle museum, a riding gear and apparel store, motorcycle sales and service area and a full-service restaurant. The cafe celebrates the history of the brand and the spirit of exploration and adventure.
"This is the first of what we hope will be many of our jukeboxes heading to India," said Sound Leisure's business development manager, Nigel French. "Royal Enfield started out in Redditch in the UK in 1901 before moving to India during the 1950s. Their motorcycles, like our jukeboxes, are hand-built. The resurgence of the vinyl format for its warmer tone is significant. We at Sound Leisure combine this tone with retro good looks and enhance its enjoy-ability using the latest in technology."
Royal Enfield chose the jukebox for its 1950s style to fit in with its decor. "The stunning Vinyl Rocket takes its name from 'Rocket 88' by Jackie Brenston and the Delta Cats. The 1951 song has been hailed as the first true rock 'n' roll record, so the Vinyl Rocket jukebox has the soundtrack and the looks to live up to it," French added.
Celebrating its 40th anniversary in 2018, Sound Leisure has been manufacturing jukeboxes in Yorkshire since 1978.