For the first time in nearly 20 years, UK-based manufacturer Sound Leisure has created a jukebox that plays vinyl records.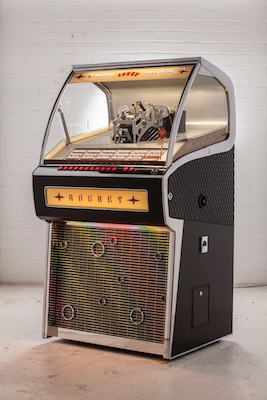 The prototype vinyl Rocket is this week making its debut at the Classic Car show at ExCeL in London.
Figures released last year showed that sales of vinyl now make up almost 10 per cent of all physical album sales. In the UK, sales have grown by more than 56 per cent over the past 12 months, while in the US sales are up 38 per cent.
"It was a momentous occasion when we played a record on the prototype machine for the first time," said the copmany's managing director, Chris Black. " We are officially now the only jukebox manufacturer in the world to now be producing a vinyl jukebox." The design of the jukebox's changer mechanism was a significant task and involved all the skill and knowledge of Sound Leisure's R&D team.
He continued: "This has been a project of epic proportions and we are extremely excited about the new 140-selection player mechanism. Not only have we used the kill and knowledge of our own research and development team, which is by far the leading team in the jukebox industry, we have managed to call on some of the greatest minds and experts around the world to allow this project to get off the ground.
"It is becoming increasingly difficult in this digital age to find people with the skills and knowledge to be able to recreate some of the components required to manufacture a vinyl-playing jukebox. Many of the team that we assembled were in their late 70s and 80s. It is a tribute to them and to the team here in Leeds that this machine has actually become reality. We are looking forward to the summer when the machines go into production."