Ropes Courses, in collaboration with waterpark product developer WhiteWater West, has introduced a Sky Trail course to the Meraviglia, a cruise ship from MSC Cruises.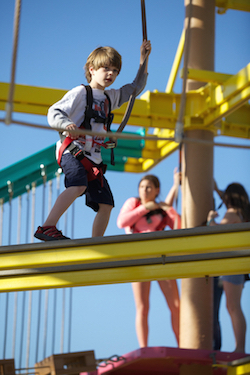 The course was fully designed, engineered and fabricated at Ropes Courses' plant in Allegan, in the US state of Michigan, before it's 2017 installation on the new cruise ship.
The Sky Trail Expedition is named Himalayan Bridge and is made up of 12 poles and two linear paths of elements that can support 30 participants at any given time. The course is suspended over a portion of the Polar Aqua Park and rear sundeck. Participants balance on elements nearly 200ft above sea level.
"It's a tremendous feeling to know Sky Trail ropes courses can deliver thrills to families across the world in a variety of environments, including the MSC Meraviglia," said Marissa Ticknor, Ropes Courses sales manager.
The Meraviglia sailed its maiden voyage from Le Havre, France, to Genoa, Italy, on June 3. It stands 19 decks high and measures more than 1,000ft in length. Additional attractions on board include a water park, sportplex, 4D cinema, Cirque du Soleil Amphitheatre, race car simulators and bowling alley.