The Qiddiya Investment Company, developer of the huge Saudi Arabian entertainment city, is to announce further Six Flags Qiddiya details next month.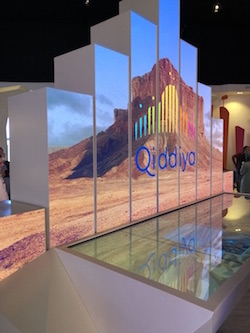 At the recent phase one reveal at the Qiddiya Welcome Centre just outside of Riyadh, company CEO Michael Reininger hinted that more information on the latest expansion for the US brand's theme park portfolio would be announced "in the coming weeks."
While the August 26 date is described as "tentative," it is further proof of the momentum that is with the 334sq.km giga-project. Exclusive images and video footage will be unveiled for the first time at the event, while representatives from Qiddiya and Six Flags will be present to field interviews and questions.
The new Six Flags location inside the development is just one of hundreds of attractions and facilities that will make up the full complement of leisure and entertainment options for visitors and residents when the first phase opens in 2023.