UK simulator expert Simworx has its latest Metro of Time ride ready for installations.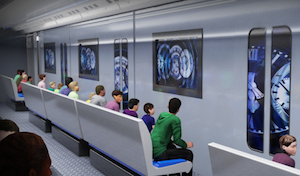 The experience takes visitors on trip through four time zones, on a safari through prehistoric lands, ancient Egyptian tombs, saving princesses in a medieval quest and a chase through the Wild West.
Simworx has created four metro-themed 4D cinemas, available individually or in multiples, each with a capacity of 40 persons, that are in stock and available for 2020 installations. The fully-themed carriages include 3dof motion seats, surround sound audio, on-board special effects and seven-LED screen "windows" in each carriage that transport passengers through their adventures.
A pre-boarding experience involves a geomagnetic storm, which hits a metro station. Things start malfunctioning and guests are encouraged to rush into train carriages to leave the station.
Arriving at each destination on the journey, the whole carriage show wall opens, revealing a huge projection screen that in conjunction with the on-board screens, combine to tell an immersive, 4D cinema story.
The attraction is available with specially-designed custom film content to suit individual venues and themes, or library films specifically created for it.