The studio that created Shaun the Sheep is bringing an immersive attraction competition to three UK locations.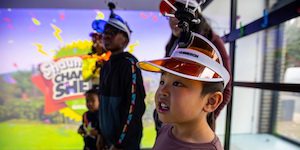 Studio Aardman will run the Shaun the Sheep "Championsheeps" in the Electric Gamebox locations in London, Manchester and Lakeside, in Essex.
It will be the first time that Electric Gamebox has worked with an official franchise developer.
Youngsters will form teams of six and compete with each other in animated competitions featuring Shaun. No wearables are necessary, only a motion-tracking visor.
The "Championsheeps" last 30 minutes against a backdrop of Shaun's Mossy Bottom Farm and take the form of sporting events.
Electric Gamebox CEO, Will Dean, said: "Shaun the Sheep is such an iconic and well-loved character and it has been a pleasure to work with Aardman to bring him to life in a unique way."