One of the leaders in the Saudi Arabian drive to transform the country's leisure and entertainment offering is Saudi Entertainment Ventures and its CEO Bill Ernest spoke to InterGame revealing just what its roadmap contained.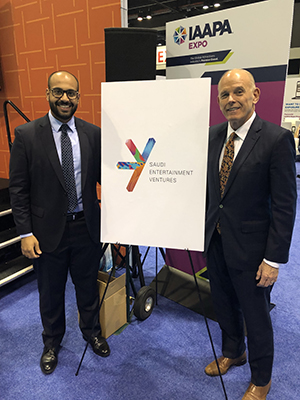 "We're building for the people of Saudi Arabia," said Ernest, "but we're also building for the international visitors too, you'll see a really nice balance of product and programmes. We think it's for everyone. We'll be building into these community locations, into the high traffic areas in the city and that will be the catalyst for the local residents and those visiting from outside Saudi."
The construction that Ernest speaks of is considerable, too. Averaging an impressive 50,000sq.m each, 20 Seven branded, indoor entertainment complexes are planned for the kingdom and will comprise 50 per cent entertainment, 30 per cent F&B and 20 per cent dedicated retail.
With its cinema partner, US chain AMC, the destinations will feature lifestyle and fitness centres, community products, performance centres, VR and AR activities and family entertainment centres.
"We look at ourselves as a kind of a national champion," said Ernest. We're building in the north, south, east and west and will have entertainment, dining and retail all under one dome, in one experience. While the branding will be Seven, we're currently negotiating with different intellectual property groups to come along and populate the interiors.
"So, all that on top of a couple of water and theme parks and the cinemas that we have planned across the country, it's a lot of building work!"
Land clearing and construction on two sites in the capital, Riyadh, are already under way with sites in the eastern city of Dammam being worked on, too. US-headquartered global design and architecture firm Gensler is putting together the outside designs and fellow US experience design and production agency Thinkwell is responsible for the guest journey inside.
"We have a lot of different products under evaluation," explained Ernest. "We're keeping the guest in mind at all times, making sure there's good flow of footfall, that everything is easy to see and makes sense. There will be different themed areas, thrill, adventure and wellness zones, that we're building out to accommodate the offerings that we're considering."
There has been huge reaction within the country, Ernest said, with "excitement and overwhelmingly positivity," to the plans that are under way.
"The Saudis are looking for a product to call their own, there's a lot of national pride and having a lot of product in their kingdom is a big deal. There are 30 million people in the country and 60 per cent are under 30 years old. It's a young population and they're always looking for things to do and once we have our projects built, the people won't have to travel far any more, it will be right on their doorstep."
But Ernest said there was no question that the projects will be attracting those from outside of the kingdom as well. "With the internationally recognised IPs we are in discussion with, it will bring in visitors from the wider Gulf Co-operation Council countries as well as further afield."
With regional development of leisure and entertainment options in some of the more traditional areas such as the UAE having levelled-out somewhat, Ernest anticipates that the new projects will be welcoming guests who would have previously only considered the likes of Dubai and Abu Dhabi.
"You can now get an entry visa for an entire year in minutes, such has been the streamlining of the visa requirements for tourists in Saudi recently. There's been a lot of shift in the last three months and we look forward to welcoming those who will be taking advantage of that."
Seven's parent company, the Saudi Arabian government's Public Investment Fund, eventually expects the company's projects to serve more than 50 million visitors each year, provide more than 22,000 direct jobs and contribute to the GDP with approximately SAR2bn annually by 2030.
Pictured: Khaled Alhinti, SEVEN's director of decision support with CEO Bill Ernest