A candy-themed attraction from Sally Dark Rides is proving a hit at Hersheypark in Pennsylvania, US.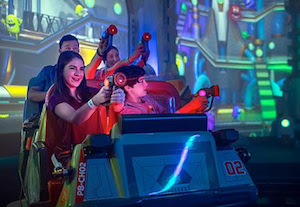 Sally Dark Rides said Reese's Cupfusion, an interactive ride with a candy-based storyline, is breaking records at the park.
The attraction offers a 360-degree gaming environment that combines show sets, interactive media screens, over 150 life-size show action elements and real-time rendering. It also incorporates sensory elements to engage the riders through sight, sound, touch and smell.
"Hersheypark had a record year of attendance in 2019 after the attraction's opening," the dark ride developer reported. "The ride consistently has the longest queue line in the park, demonstrating its popularity and daily demand.Fans are loving the new cast of Reese's branded characters which has been reflected in the rides gift shop revenue. Through social media campaigns, press coverage, and in-person PR, the attraction garnered nearly 71m impressions for a publicity value of more than $2.3 million."
The ride has been critically acclaimed with Coaster101 rating it "our new favourite dark ride shooter."