Cashless technology provider Semnox Solutions used the recent Saudi Entertainment and Amusement Expo in Riyadh to announce its work with a new LBVR operation in the country.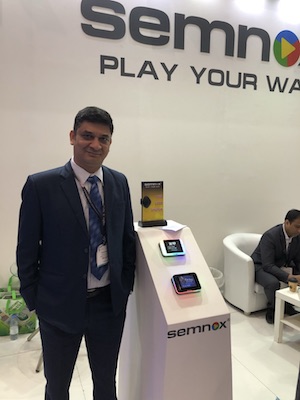 Xtra Life is the result of collaboration between the United Electronics Company, which operates the eXtra chain of consumer electronic retail stores in Saudi Arabia, and Viveland, an affiliate of Taiwanese electronics giant HTC.
Considered to be the biggest Saudi location of its kind, the centre spans an area of 1,500sq.m and attracted an investment of around SAR10m (US$2.66m). The facility offers experiences across four gaming genres: shoot 'em ups, sports, racin, and adventure games and is projected to cater to approximately 360,000 customers annually. Its success is expected to see another branch open in Riyadh before a further 15 venues across the country.
"We've enjoyed many serious enquiries here at the show," said Tushar Berge, (pictured) business head for the Middle East and Africa at Semnox. "With the government's commitment to expanding leisure and entertainment here and our established presence with products and services, there's much opportunity.
"We're seen as a good product here in Saudi; we already have a good customer base here, strengthened by our recent roll out in all Chuck E Cheese stores and the deal we have with Xtra Life is testament to this."