Sega has released a more compact version of its perennial favourite, Daytona Championship USA.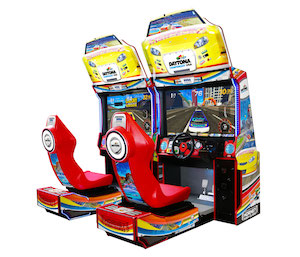 The standard cabinet is designed to enable it to fit in more locations with a smaller footprint and lower height. The new version retains the same Hornet car themed marquee, racing sponsored graphics and LED edge lighting as the larger deluxe version.
"We had many customers asking us for an inexpensive compact cabinet for their location, so we answered their wishes with this spectacular new model. In developing this game, we maintained all the winning aspects that make Daytona Championship USA one of the top driving games on location. We also found ways to make this cabinet one of the most attractively priced driving game on the market," said Vince Moreno, sales manager at Sega.
Global demand for Daytona Championship USA has been high since launch, thanks in part to new features such as the new instant re-match that encourages repeat play. The all-new Tournament Mode also attracts new players to a location and simplifies setting up tournaments for the operator. The Sega-IQ Intelligent Service Menu feature offers prompts and troubleshooting advice to an onsite technician.
The races are reproduced in 60 frames per second on a 42ins LED high definition screen, to complement the arcade handling, artificial intelligence and catch up features. This is alongside the four-speed gearshift, new cars, six tracks and game modes.
"The Daytona standard game is designed to have a smaller footprint and fit the budget for more customers so more locations can have the Daytona brand in their location," concluded Moreno.
Daytona Championship USA Standard cabinets are in production now.