Sega will be launching its brand new redemption game, Hoopla, based on the classic carnival game of the same name at EAG 2017.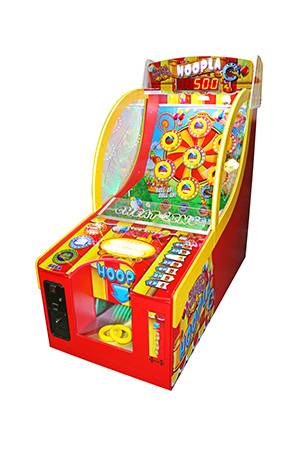 Hoopla is designed with the family player in mind and to fit into any skill wall. Justin Burke, general manager at Sega, said: "Just like any other skill wall game, Hoopla has that intuitive gameplay that's simple, fun and can be enjoyed over and over again. Best of all the wide playfield allows parents and kids or friends to team up, creating a space for shared enjoyment which is one of the biggest attractions to family entertainment centres in the first place."
Hoopla features a brightly lit, eye-catching cabinet with colourful carnival theming. The lowered playfield is specifically designed to encourage kids and adults to play and features a conveyor belt that constantly feeds the player more hoops.
Burke continued: "This is a long-term piece that will last in any FEC for 10 years or more. The genre is timeless and allows players across all generations to play together - it provides fun on the day and memories to keep.
"Operators have seen tremendous success by adding a skill wall to their locations in the UK and across the world. Carnival games have been a core part of that and Hoopla will be a fantastic addition to it. On-site player reaction to Hoopla has been incredible; players just love the game and keep coming back for more."