Sega Amusements International will be showcasing an array of new games at IAAPA Expo Europe 2023 in Vienna, Austria, later this month.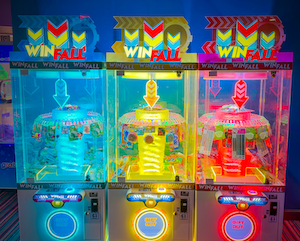 Making its debut at the Expo will be Win Fall Revolution. Available in a combination of red, blue, and yellow cabinets, its centrepiece is a rotating prize pedestal, which showcases all the prizes.
Sega will be unveiling some of its latest video games, including Drone Racing Genesis and Storm Rider 2, a motion-based motorbike racing game featuring futuristic bikes and a fully lit billboard designed to grab visitors' attention.
On top of that, the company will be introducing Ballzania, a fast-action, skill-based redemption game, and there will be a chance to see its hit redemption game Bop It! Arcade.
The Sega booth will also feature top games from redemption manufacturer ICE including Dodgeball Ultimate Arena, World Football Pro, Shipwreck, Monopoly Roll-N-Go and Tons of Tickets.
Visitors can also see its social entertainment game, Augmented Reality Darts.
Sega has partnered with cashless systems provider Sacoa who will be on the booth right next to it.