Sega is planning its largest-ever presence at this year's EAG International with a 3,600sq.ft stand boasting an array of new products.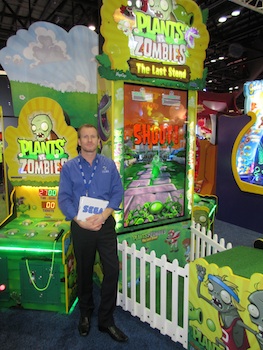 "It is the biggest European show," general manager Justin Burke told InterGame. "The IAAPA Attractions Expo is big on the US and international front, but this is our biggest European show without question."
This year, he said, Sega has "a big stand, a big presence and a lot of big product."
On display will be 29 titles, including six licensed titles in 64 cabinet configurations covering 12 distinct categories of amusement games.
Among the products on display will be new video racing game Showdown in the company's Special Attraction cabinet, described by Burke as "the next generation of video attractions."
Showdown will be joined by new, super-sized versions of Transformers and Plants vs. Zombies, featuring 80ins and 60ins screens, respectively.
The Sega stand will also boast a full ICE Skill Wall of carnival-themed games, including Gold Fishin', which follows last year's hit Down the Clown and previous success Milk Jug Toss. Also from ICE is Kung Fu Panda, a new ticket redemption game inspired by the DreamWorks movie.
There will also be a chance to experience a new pirate-themed shooting gallery, Captain Black, from Pan Amusements. Sega's Prize Division, meanwhile, will be exhibiting Plants vs. Zombies and Doodle Jump licensed merchandise, along with the latest cutting-edge electronics from its Tokio Technology line.
The company's service and support arm, Sega Total Solutions, will also be on hand to discuss after-sales support and its stock of spares and other components.
The mood among the company's various sales teams is positive, Burke explained.
"We've had good sales recently in central Europe, despite the problems in countries such as Greece. We've held our own; good product speaks volumes.
"There's a lot of positivity and confidence based on last year's good season, so we expect it to be a good show. We're really fired up for it."
EAG International is taking place at ExCeL on January 13-15.