Last month saw managers and staff from Sega Amusements tackle the 886m (2,907 ft) Pen Y Fan mountain in a fundraising event.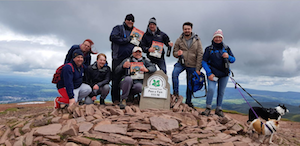 The mountain is the highest peak south of the famous Snowdonia range in Wales, one that is used by the military as part of the selection process of the UK's special forces personnel.
If the completed feat wasn't difficult enough, they also did it with the weight of several copies of InterGame in their daysacks!
Sales and marketing manager at Sega Amusements Europe, Justin Burke, said: "A bunch of brave (fool-hardy?) lads and lasses decided to spend a Saturday afternoon recently, walking (crawling) up Pen Y Fan and even managed the return. As you can see from the picture, the lovely Welsh weather was with them!
"It was a fantastic effort for a great cause and all at Sega are immensely proud of them."
The climb was undertaken in support of the Fragile X Society. Formed in 1990 by families whose children had been diagnosed with the condition, Fragile X syndrome is the most common inherited cause of learning disability. The society provides information and practical guidance to support and empower individuals and families living with Fragile X and the professionals who support them.
For further information about the event and to donate to the charity, please see the JustGiving page.
Image: The Sega team at summit of Pen Y Fan brandishing some high-quality reading materials!