The best quad bike racing video game on the market...that is how Sega describes its ATV Slam.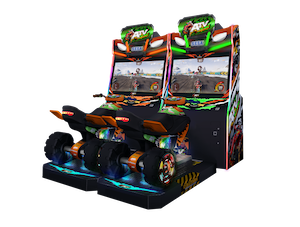 The all-terrain vehicle game has a great deal of the latest technology and custom features. A four-player game, ATV Slam comes in an all-new cabinet design and features a full-size quad bike with huge back wheels, chrome engine compartment, stylish livery and LED lighting effects.
The player uses an accelerator on the handles to race for the finish line, using a boost to avoid obstacles, drift and perform stunts to show off skills. There is a choice between 10 different environments, using any of five different characters and five different vehicles, each with its own charatceristics.
ATV Slam comes with a 47ins HD LED monitor running at 60 frames per second on a motion platform to let players feel the bumps.