Sega Amusements in London is promoting the Mario & Sonic at the Olympic Games arcade edition that is due to be shown at June's Bowl Expo in Louisville, Kentucky, US.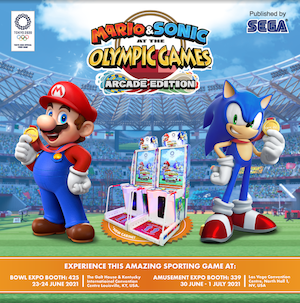 It will also be on show at Amusement Expo International, Las Vegas, taking place June 30 to July 1.
There are 12 events in the arcade edition of the popular game, with character choice available to players. A button and foot sensor controls the action against a backdrop of attractive lighting and imagery, played on a 55ins vertical screen.
Up to four cabinets can be linked together for competitive play and for those operators with a 2016 cabinet there is an upgrade kit available with nine new pieces of artwork, three new button controls, a new control panel, a key chip and a USB with new software.