The world's first underwater ride will be built at the Qiddiya Water Theme Park, just south of Riyadh, Saudi Arabia.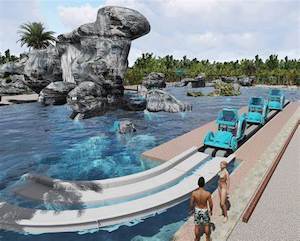 The California-based developer, Sub Sea Systems, announced at IAAPA when it opened its doors yesterday, that the innovative underwater recreational experience will be named Aquaticar.
The ride system features 17 fully submersible cars and is powered by air. The vehicle's Bubble Engine harnesses the uplift force of air bubbles to propel the car through a fully themed underwater environment.
During the ride, passengers' upper bodies remain dry inside the car's air canopy with continuous air supply, while their lower halves iare submerged in the water.
The ride gravity descends to a depth of nine feet and journeys through an underwater archaeological site with ancient ruins, shipwrecks, artefacts and a kelp forest. Sensors trigger special effects and synchronised audio entertainment.
The ride will last around four-and-a-half minutes with two passengers per vehicle, which means that it can carry 300 passengers per hour, aged five or older.