The potential for the attractions industry to capitalise on the giant Qiddiyah project and other mega-leisure industry undertakings in Saudi Arabia are highlighted by MENALAC.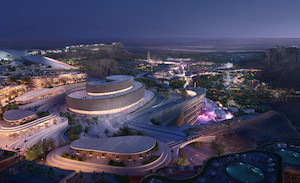 The trade association, that covers all of the Middle East and North Africa, is urging its members to get involved in the rapidly-expanding Saudi market, which it reports will have US$810bn invested to transform the tourism landscape in the country between 2020 and 2030.
The initiative by the KSA government will see tourism in the country reaching 62m visits and revenues to exceed $37bn by the end of this year. Saudi seeks to more than double its investment in recreation fro 2.9 per cent in 2020 to six per cent by 2030, says the association.
"Massive investment in mega tourism projects will make KSA one of the largest leisure and tourism industries in the world between now and 2030, according to our research," said MENALAC.
The association reports that the projects are being developed by the KSA Public Investment Fund and will spread over 64,634sq.km, according to figures from the Saudi Commission for Tourism and National Heritage. The projects will include the $500bn Neom sustainable city, followed by the $10bn Qiddiyah project covering 334sq.km close to the capital, Riyadh.
Major Saudi operator and board member of MENALAC Mishal Al Hokair, said: "Saudi Arabia has an array of dynamic plans and attractions planned over the next few years, each of which will add to the fast growing leisure and entertainment sector. Its Vision 2030 will change the entire economic and tourism landscape of not only Saudi Arabia, but the entire Middle East region, that will have a massive positive knock-on effect on the leisure tourism industry.
"Once the current Covid-19 situation improves, the investment and development in the Saudi Arabia's tourism sector will bring massive opportunities for the industry. It is time for everyone to prepare for the next big growth."
Another association board member and local games distributor, Prakash Vivekanand, commented: "The latest news from Saudi Arabia is very encouraging. The government wants to push ahead with the mega projects that will boost not only the country's gross domestic product but also the tourism sector. It will create massive opportunities for all the players in the leisure attractions business and we could count on an exciting future for the industry in the MENA region."
Despite the current Covid-19 situation, Saudi Arabia is pushing ahead with construction of some of these massive projects. A number of construction contracts have recently been awarded following the partial reopening of the economy after the lockdown. Red Sea Development Company has recently awarded construction contracts worth $1 billion while Neom has awarded Bechtel and AECOM a programme management contract.