Last week's Cinema Build KSA Forum held in Riyadh, had over 300 senior executives from a number of interested companies taking part in discussions, form 30 different countries, plus 25 exhibitors in a two-day event.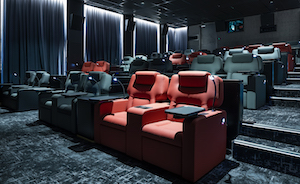 The Forum was held in partnership with the Gernal Commission of Audiovisual Media and was organised by Eyes of Cities and Great Minds Event Management.
The Forum discussed the infrastructure of the new Saudi market, the design and the construction of world-class venues for cinema-goers. KSA has 32 million people, the majority under the age of 30 and therefore the Forum recognised the importance of entertaining such a large mass, notably one that spends over US$30bn each year on tourism and entertainment outside of the Kingdom. Cinemas will help to keep their tourism activities to the home market and is estimated to be worth around $1bn in revenues by 2030.
Among the specialist companies represented at the Forum was VOX Cinemas, the Majid Al Futtaim Group cinema division that was awarded the second licence to open cinemas in the Kingdom. Speakers at the Forum included Carnival, Empire, Cinepolis and MUVI, all pioneers in the KSA cinemas business.