Paris and Bangkok will see Argentina-based debit card specialist Sacoa spending a great deal of time on the road in the coming weeks.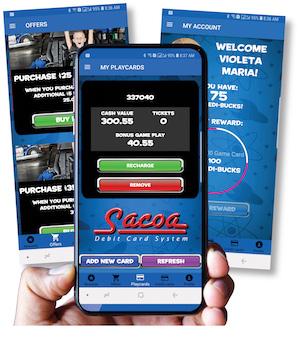 First the company will go to Paris for the IAAPA Europe show where it will display its cashless systems that has seen Sacoa complete 1800 installations world-wide.
The newest products will take centre-stage, the Sacoa Mobile App and M-POS. The mobile app enables players to check their Playcard balance, buy special offers, pay online with a credit card and accumulate reward points. It will also give the nearest store details with map location, direct phone number, website and online party booking access. The M-POS is a portable access to all the features that a desktop POS can do, including Playcard analysis, sale and recharge and retail merchandise. The show runs from September 17-19.
The same devices will go to the Thailand Amusement and Attraction Parks Expo to be held from 19-21 and will have 500 booths and visitors from 20 countries. Sacoa Pay, the payment format which allows a mobile phone can be used as a digital play card, will be on view along with the Online Party Booking module and the Customer Registration Module.